or-bits.com presents On the upgrade, a new limited edition series in a box, during the Artists Books Weekend (Thu 22 to Sun 25 September)
On the upgrade is a collection of unbound printed works in reply to their online counterparts.
////
"Is going to print a type of technological obsolescence ?"
////
For On the upgrade (September 2011), six artists who have previously produced a work for or-bits.com's Programmes, PATRICK COYLE, BENEDICT DREW, JAMIE GEORGE, TAMARIN NORWOOD, DAMIEN ROACH and DAVID RULE, have been commissioned to create an extension of that very same work for the printed format.
LAUNCH EVENT on SUNDAY 25 SEPTEMBER, 4 – 6 pm, at The Mews Project Space Common Room.
In response to the Artists Books Weekend and to On the upgrade, artist MAGDA FABIANCZYK will present an 'act for a consumable text', On defining a First Class Banana, make an apple a Royal Gala , which is part of her ongoing project The Edible Interventions series. Fabianczyk's act will be interspersed with the reading We Go Like This by TAMARIN
NORWOOD and the performance Empty Grey Squares (Registration) by PATRICK COYLE.
WHERE:
The Mews Project Space
15C Osborn Street [alley behind the Whitechapel gallery]
London E1
On the upgrade will be on display from Friday 23rd September (5-9pm) to Sunday 25th (10-7pm) in the Common Room and available for purchase in the space and through our website.
The sales of the editions in a box will subsidise our future activities: the production of new online programmes, new artists commissions, curatorial collaborations and related off-site events.
_____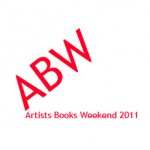 The Artists Books Weekend is an initiative of The Mews Project Space. Other participating organisations are: Banner Repeater, Donlon Books, IMT Gallery, The Modern Language Experiment, X Marks the Bökship, and more. Please check the ABW website for the many events taking place over the weekend at The Mews Project space and affiliated organisations.
______
Tags: Book Fair, Publishing