I will never know where you are while I write this, or where you are while you read it. Do you sit alone like me; feet tucked under a folded-down duvet, clothed in soft jersey – a Sunday-morning-style of working-from-home? In my last post I mentioned the anonymity of the screen in the room; the secrecy of the users gaze. Since, I've been researching aloneness and sociability.
Contemporary working methodologies include "think groups" and " break-out areas" and are concerned with game theory; collaboration has become a strategy as well as an art practice. Within artist-run studios and post-studio practices collectives share tasks and ideas to mutual benefit, but where does leave the introvert who works best alone; what of the Anachorites, when idiorrhythmia calls?
Sloterdijk writes 'Psychologist-philosophers of the early Modern ages had made it clear that the interpersonal space was overcrowded with symbiotic, erotic and mimetic-competitive energies that fundamentally deny the illusion of subject autonomy.' [Sloterdijk, Peter, Bubbles (Semiotext(e) 2007) pp.207.] Philosopher Wittgenstein suffered from this lack of 'subject autonomy' and noted that he could only think clearly when outside the academy; away from other academics and institutions. He retreated to Norway:
Where could I find this isolated place now? I ask this question while alone in my room I have conversations popping up as texts and Tweets on my phone, as emails and Google chats pop up on my laptop screen. I have Facebook and Skype set to "invisible" and am contemplating downloading 'Freedom', one of the study aids that block your computer from receiving the internet for a pre-set time: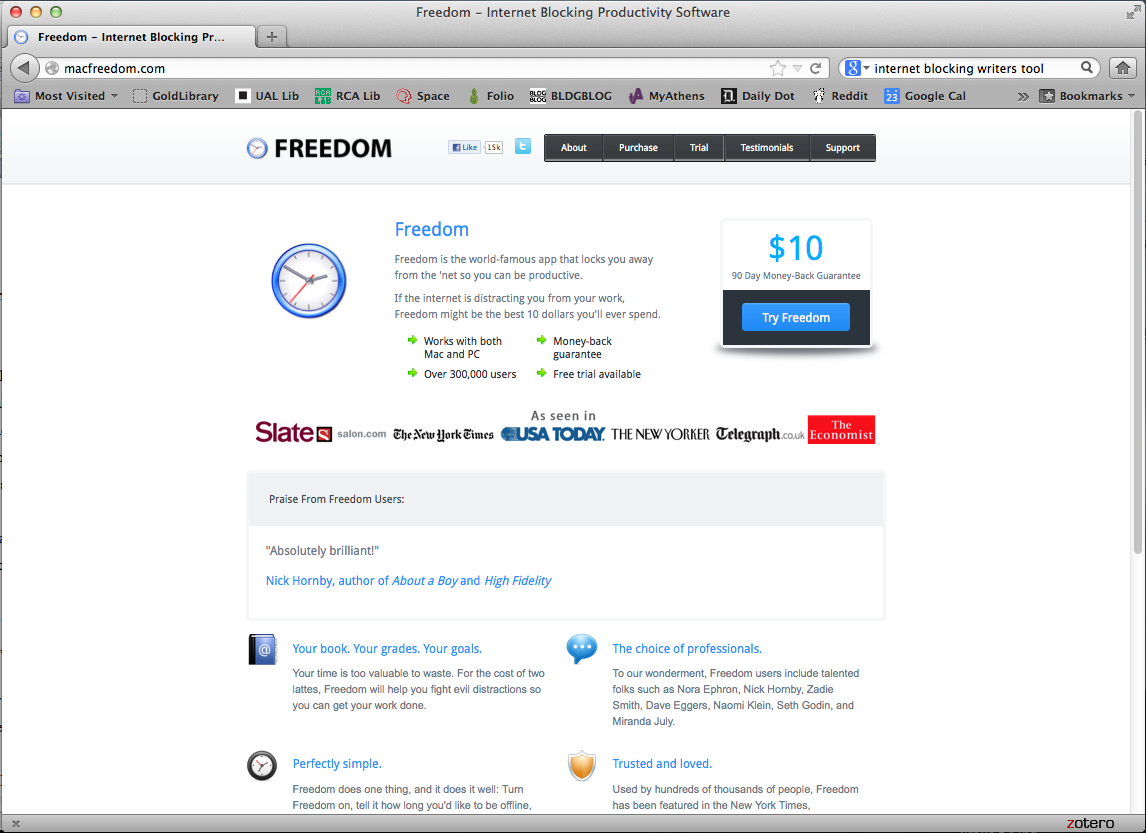 'Freedom' – when did the internet become something we needed 'freedom' from?
When I do retreat to a rural heaven, I take my computer and can't help but to key in the Wi-Fi code, and therefor continue to be connected to the very same international network. Unlike the many classic literary gents (T.S. Elliot who finished The Wasteland while on retreat in Margate, Orwell who wrote Nineteen Eighty-Four on the Scottish island of Jura), wherever I go my position on the network remains un-removed. I question how the relevance of location has changed since we are constantly surrounded with this same network of peers and information; plugged into the same Gmail program, the retreating artist must go further, to "get away". For those accessing this blog post, total removal from "the" globalized society, is an extreme action and quite difficult to come by.
When listening to the narrative of any of Oliver Laric's Versions film works, the infinity of content online is brought to my attention through his narrative essay. Since information on the internet is infinitely duplicated and is expanding in all directions, the source of the information becomes untraceable, and eventually, irrelevant. Information is removed from its original context as soon as it becomes digitally accessible, this philosophy could be carried across to our own geographical location. The geographical setting of origin becomes unimportant if the digital network, the same network that we access every day and the traveler, easily accesses everywhere. It doesn't matter where we are. Perhaps when the 20% of us who are served by telecommunication found "Globalization", lost original context.
What becomes of the introvert who traveled to find solitude, does he/she now have nowhere to retreat to, or does this person find a new, intermediary space? Shyness becomes less compromising now that popular digital communications provide a regular mode through which to communicate, protected by one sort of visor (screen/ keyboard/ microphone) or another.
The idea of Anonymous is that you're fucking alone until you get to 4chan, and all these people think like you, and then all of a sudden you're not alone, you're with 500 others, they all know the same jokes and the same interests as you, "here is your culture", you meet you're own people, finally. [Mike Vitale, friend of Anonymous during Project Chanology.]
The rise in digital collaborative forums such as Anonymous, Reddit, 4Chan, server lists, reduce the social handicap that the introvert has been dealt with in the past allowing a guise through which to effortlessly access a peer group. Looking for similar social interaction stay at home mothers founded netmom and adolescent pre-teens divulge their most intimate concerns to group feedback on the comments pages of  Wikihow and Teenspot.
"Girly chat" is not really the same though is it – when it's limited to anonymity and removed from your girlfriends. Gregg Housh, internet activist associated with Anonymous, joked about Anonymous's members 'who are not socially good, they still live at home at 23 and half of them virgins,' and in the 2013 Storyville BBC documentary How Hackers Changed the World: We Are Legion went on to divulge that a number of them admitted to 'getting laid' at the first physical gathering during the scientology protests of 2008. My point here is something about the importance of physical interaction, even the platonic kind. Questioning the effects of the impossibility of it on the internet, and how that's effecting online communication.
I have a colleague who's obsessed with ASMR (Auto Sensory Meridian Response):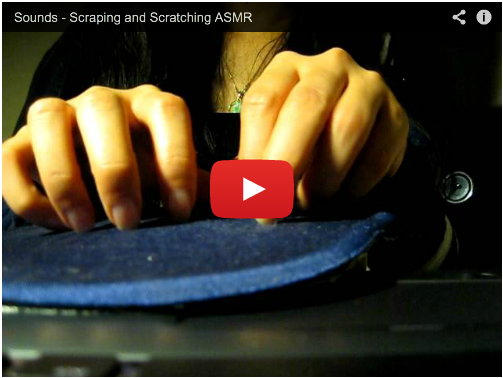 The strange ASMR YouTube videos of people folding towels, stoking their faces with soft brushes or applying make-up are made by people who have found that watching these videos provokes a 'tingling feeling which begins around the scalp and can often travel all around the body particularly down the back and into the persons arms and legs' [http://www.asmr.co.uk/]. The draw is relaxation not sexual pleasure, but, maybe like porn, the visual sequences broadcast physical sensation through the screen. Having spoken about concerns of physically reductive online social-lives, to find this group of people who's brains have developed to experience this 'tingling sensation' on the body without physical touch, crosses one of the limits of the screen.
ASMR is a very new fad, it is not yet scientifically researched as far as I can see but physical stimulus has been a heavily researched as a psychological effector, since the beginnings of erotology. This ancient and continually existing study is dedicated to physical stimuli and sexual behaviors and subjects long biography quantifies it's own psychological importance.
Magnetosophical theory is a development of erotology, towards platonic physical stimulus, and has been researched by philosophers, anthropologists and psychoanalysts including Plato and Freud.  Magnetosphy addresses intersubjective intimate space and argues that our bodies are imbued with magnetic forces that, like planets in the cosmos, respond to each other – are drawn to each other. In the previously mentioned book Bubbles Sloterdijk evaluates every type of human-to-human intimacy including the magnetosphical, to claim that intellectual connections entail physical proximity, to grasp 'the uppermost heights of cognition'. If indeed the 'magnetic fields' coming from another's body really can take our thoughts to otherwise un reached places, this would reaffirm why working collaborations, which are played out face-to-face, are a vital method of practice.
Without the possibility for this physical interaction, can message boards, server lists and forums ever attain to similar qualities as face-to-face communication? Skype might take us closer to physical togetherness but the "magnetism" between two bodies is still voided through the disjunction of the screen. ASMR only serves to relax the viewer, and so far hasn't expanded to look at the possible transmission of physical connection within two-way social communication. Are what we gain from almost always being connected, and a shyness-sensitive inclusiveness, worth the sacrifice of physical-social interaction? One risk is that the shield of the anonymity of the screen leaves users more reckless, but one benefit is that it distributes more voices to be heard, and therefore attains to a greater and more unilaterally satisfied community voice.