This is an edited version of 128kbps objects radio exhibition first broadcast on basic.fm in October 2012. This version of the original 60-hour show has been put together for Grand Union's participation in the gallery project Floor Plan for an Institution: The Gallery at The Meter Room in Coventry, UK.
Over the course of 12 hours from 8AM to 8PM GMT, both on the internet radio basic.fm and at The Meter Room, the audience will be listening to a combination of sound works, readings, music and playlists that responds to the theme of The Gallery; what a gallery might be and how objects might be displayed and experienced within it, outside it, or in-between.
Featuring:
A—Z, Angus Braithwaite, Helen Brown, Rob Canning, Daniela Cascella, Osvaldo Cibils, Patrick Coyle, Beth Collar, CuratingYouTube.net [CYT], Tim Dixon, Steven Dickie, Benedict Drew, Anne Duffau, Extra-Conjugale, Claudia Fonti, Jamie George, Graham Harman, Emma Hart, IOCOSE, Juneau Projects, Irini Karayannopoulou, Scott Mason, Tamarin Norwood, Sara Nunes Fernandes, Ciarán Ó Dochartaigh, Chiara Passa, Radiomentale, Yannis Saxonis, Salvatore Sciarrino, Richard Sides, Maria Theodoraki, Simon Werner, Richard Whitby.

TUNE IN on Thursday 28 FEBRUARY 2013 from 8AM to 8PM GMT at http://www.basic.fm/radio/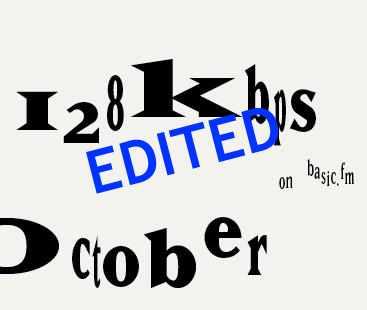 At 8PM, at The Meter Room, artist Scott Mason will present "of a final account in formation", a live DJ mix formed of room-tone recordings he has undertaken at exhibitions around the UK. The essential sonic documentation mix, bringing you a survey of the hottest exhibitions nationwide.
For more details about Floor Plan for an Institution: The Gallery project, which is curated by Grand Union, go to The Meter Room website.
Full RADIO SCHEDULE below (download PDF here)
08:00 AM  >  Welcome to 128kbps objects EDITED
08:03 AM  >  Helen Brown: There's no story (2012)
08:09 AM  >  Richard Sides and Simon Werner: And it was all greasy (2012)
08:41 AM  >  Daniela Cascella: Reading of an excerpt of En Abime (2012)
08:55 AM  >  Selected by Emma Hart: Baldessari's Dorit Cypis attempts to insult in a second language (1977)
09:01 AM  >  Maria Theodoraki: The moving of the fountain (2012)
09:11 AM   >  CuratingYouTube.net [CYT]: acoustic diaries: no Silence (2012)
09:28 AM  >  Radiomentale: D-Trains Part 1 and 2 (2012)
09:50 AM  >  Tim Dixon: Words Concerning Some of the Objects on my Work-Table (2012)
11:11 AM   >  Steven Dickie: The importance of record keeping (2012)
11:23 AM  >  Jamie George and Richard Whitby: This Walk Is Repeated You Can Split It To One (2012)
11:29 AM  >  Jamie George: Other Space # (2012)
12:37 PM  >  Patrick Coyle: Empty Grey Squares (Registration) (2011)
12:45 PM  >  Salvatore Sciarrino: Efebo con Radio (1981)
12:57 PM  >  Osvaldo Cibils: Sounds in a roll of paper (2012) – La pratica quotidiana della Pittura
01:02 PM  >  Irini Karayannopoulou: Transmission (2012)
01:06 PM  >  Sara Nunes Fernandes: The sideways boy and the levitating granny, The frontal man and the backside woman, The upside-down man and his wife who had her feet on the ground  (2012)
01:48 PM  >  Chiara Passa: Tales from Space (2012)
01:55 PM   >  Scott Mason: of a final account in formation (2012)
02:00 PM  >  basic.fm presents:  Hearspool : A Humble Gardener by Momus 
03:03 PM  >  This is Not a Pipe.Neither: dis·in·te·grate (d s- n t -gr t ) curated by Anne Duffau and Marialaura Ghidini
04:54 PM  >  Tamarin Norwood: My House and Other Inventions (2011)
05:17 PM   >  Benedict Drew: A Folding Table (2009) – Some Legs
05:39 PM  >  Graham Harman: The Third Table – Read by Nazim Kourgli (2012)
06:03 PM  >  IOCOSE: A Crowded Apocalypse: On Air (2012)
06:09 PM  >  Yannis Saxonis: 1 of 22 soundtracks for Immaterial (2010)
06:12 PM   >  Juneau Projects: Welcome to the Federation's Headquarters (2012)
06:34 PM  >  Yannis Saxonis: 1 of 22 soundtracks for Immaterial (2010)
06:38 PM  >  Angus Braithwaite and Beth Collar: The English House Through Seven Centuries – 1 Episode of 7 (2012)
06:45 PM  >  Richard Sides: Stop killing my buzz (expanded edition 0.5) (2012)
07:17 PM  >  Ciarán Ó Dochartaigh: Echolocation (2012)
07:22 PM  >  A—Z : E—Eponym: The Shell filled with Planets (2012)
07:37 PM  >  Rob Canning: RadioKulturo
07:49 PM  >  Extra-Conjugale: di tropical
07:59 PM  >  128kbps objects EDITED Finale
Claudia Fonti: 128kbps Ident will play in between the works listed above.
More details about each piece can be found by browsing the archive of the original exhibition on basic.fm.
Announcements voiceover and sound by Jenny Hodgson and Kieran Rafferty.
128kbps objects original project was supported by Arts Council England in partnership with basic.fm. The broadcast of this edited version is supported by Grand Union and The Meter Room.